We're so happy to introduce our new website, in support of our new project, The Wanderlust Catholic!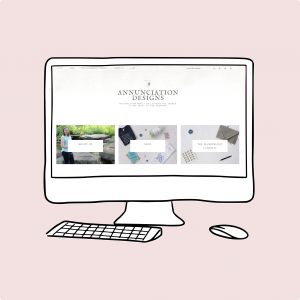 And by so happy, I mean relieved that months of hard work have culminated in a working (I hope! Contact me if you have issues!) website.  I made great grades in school, and never really had to try hard.  And then I tried to put together a website that could support subscriptions, reflect our brand, grow with my business, and, well, work…And I failed so, so many times.  I honestly wasn't sure I would be able to pull it off!  So, my message to you is: celebrate your successes!  Did you tackle the laundry today, after a week of ignoring it?  Celebrate!  Did you earn a raise at work?  Celebrate!  Did you finally decide to talk to your doctor about that thing that's been bothering you?  Celebrate!
I felt silly celebrating this small success, because lots of other people have built a website, and they probably didn't even cry along the way.  But the struggle is what makes this small achievement worth celebrating – it doesn't matter what other people think of my accomplishment.  I worked hard, I'm proud, and I'm going to celebrate!