FYI – The sticker page is just a bonus for you! They are not used in this craft – but they *are* dishwasher safe and waterproof vinyl 🙂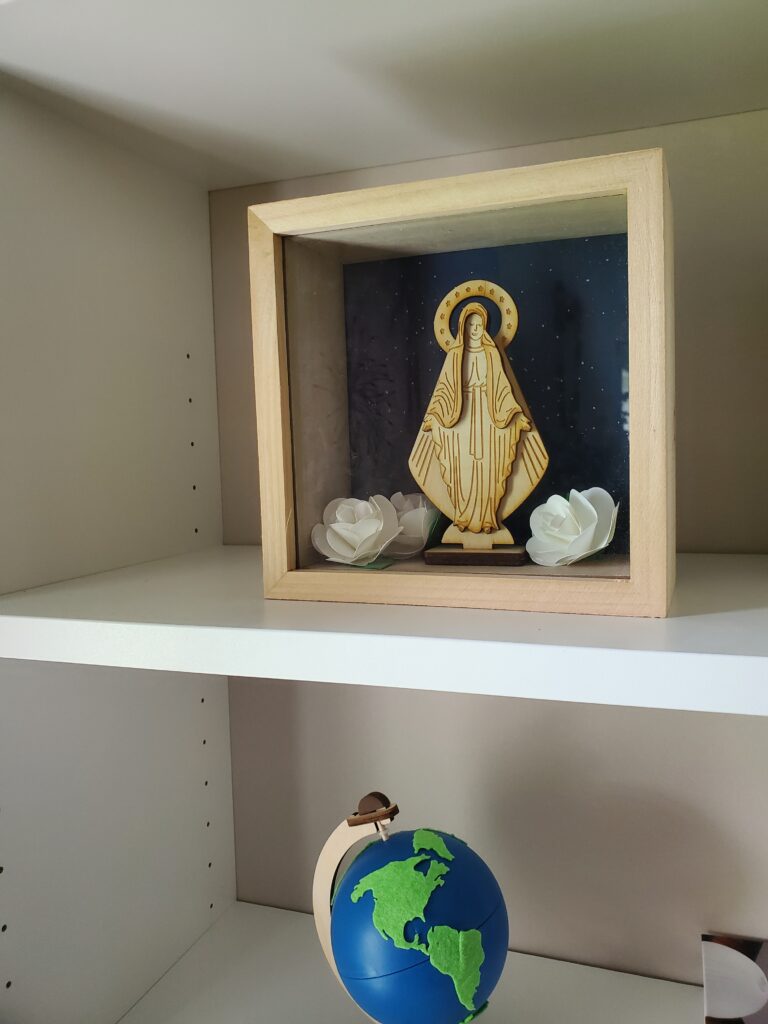 Step 1) Glue blue card stock to back of shadow box.  Glue stick, a light layer of tacky glue, or double sided tape will work well.
Set aside.
Step 2) Assemble Mary 'statue.' Glue the 'body' layer to the 'rays and stars' layer, then add the 'veil' layer on top. Separately, glue the identical base layers together, being sure the slots line up. Wood glue works great, but school glue will also work.
Let dry.
Then, slot the Mary part into the base!

Step 3) Assemble the flowers using hot glue (low temp preferred for comfort!). You have supplies for 3 identical flowers – separate into 3 piles and start on one flower at a time.
Curl each of the rounded ends on all the petal pieces except the single teardrop shapes.
Overlap the open straight edges on each 5-petal piece to form 2 'cones.' Glue to secure. The curled round petals should curve to the outside of the cone. Glue these together, one inside the other with petals alternating.
Continue in the same way with the 4-, then 3, then 2-petal pieces, overlapping the open edges to form cones, gluing each inside the last. Alternate the petals.
Roll the single petals and glue in a coil. Add glue to the inside of the flower and insert the single petals.
Add leaves to the outside as desired.
Step 4) Assemble the mini shrine! Place the 'statue' and flowers inside the shadow box and close the back.
Some ideas for embellishment: Add a short phrase, such as 'Totus Tuus' or 'Ora Pro Nobis' to the blue background, or add gold flecks as stars.